Specializing in American Dutch and Coronets
Alegra Caviary is located in central Michigan. I specialize in Dutch American cavies (guinea pigs). I also have a few abys.
I have Dutch in Black, Chocolate, and Red - I am in the developing stages of color varieties of cream, silver & lilac.
I am a member of the American Cavy Breeders Association, American Rabbit Breeder Association, Ontario Cavy Club and a directer in the Michigan Cavy Breeders Association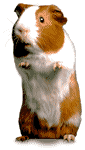 Black Dutch

Red Dutch